Your dream wedding deserves the perfect backdrop, and Koh Samui's private villas might just be the answer. With beautiful beaches, turquoise waters, and stunning sunsets, Koh Samui offers an amazing backdrop for your destination wedding. But with so many options available, it can be challenging to decide on the perfect setting for your special day. As a wedding planning service specializing in organizing weddings in private villas, we know that exclusivity and guest experience are key factors in creating a truly unforgettable wedding experience. In this guide, we'll explore why Koh Samui's private villas are the perfect choice for your dream wedding. From the advantages of choosing a private villa over a hotel to how to choose the perfect villa, we'll help you through everything you need to know to make your dream wedding in Thailand a reality.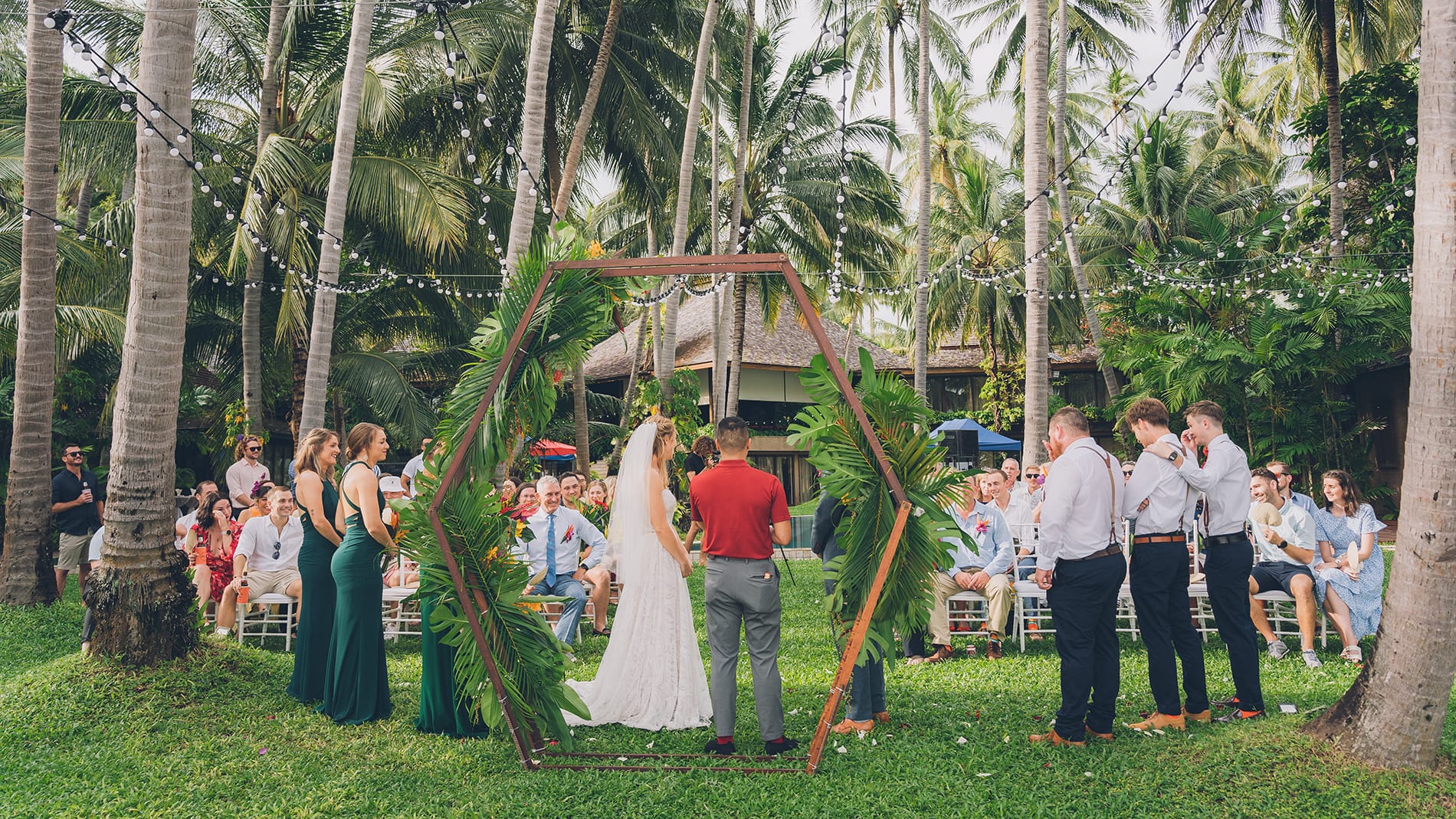 Why Choose a Private Villa Over a Hotel
Choosing the perfect venue is one of your most important decisions when planning your wedding. While hotels offer convenience and plenty of facilities, a private villa wedding in Koh Samui offers a unique and luxurious experience that simply can't be matched.
Here are some of the benefits of choosing a private villa for your wedding in Koh Samui:
Private Villa is PRIVATE
When you choose a private villa, you'll have the entire property to yourself, which means you won't have to worry about sharing your special day with strangers or being disturbed by hotel guests. You'll also have the greater freedom to customize the venue to suit your preferences, which allows for a more personalized and intimate wedding experience.
Flexibility and Control
With a private villa wedding, you'll have more control over the timing and logistics of your wedding day. You won't be limited by hotel policies or restricted by the availability of event spaces. You can also choose your favorite vendors and caterers, which allows for greater flexibility and customization.
Accommodation Options for You and Your Guests
While not every private villa can accommodate all of your wedding guests, we are happy to help with accommodation options that can be tailored to you and your wedding guest's needs. Close family and the bridal party may stay at the villa, while other guests can be accommodated in nearby hotels or villas. This option allows you to still have the privacy and exclusivity of a villa for the wedding ceremony and reception while ensuring that all of your guests have comfortable and convenient accommodations.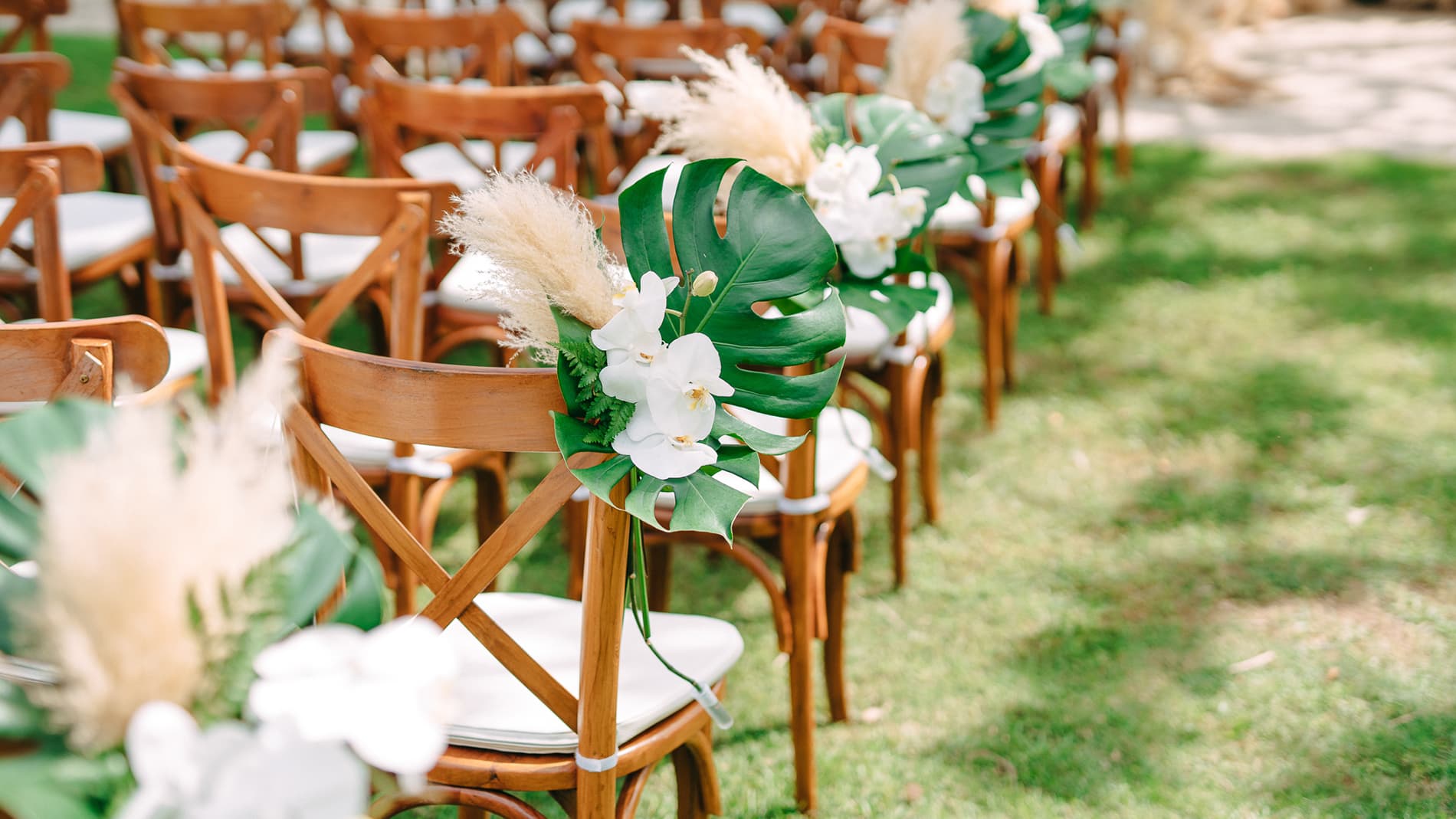 Choosing the Right Private Villa for Your Koh Samui Wedding
Choosing the right private villa for the wedding is one of the most difficult and important tasks in planning your Koh Samui wedding. Here are some tips to help you find the perfect villa for your big day, and how we can help:
Plan Your Guest List and Budget
Before you start your search, make sure you have a rough idea of how many guests you'll be inviting and what your budget is. This will help you narrow down your options and ensure that you're only considering villas that can accommodate your needs. Our wedding planner will work with your set budget and recommend private villas in Koh Samui that fit your needs.
Look for a Villa that is Suitable for Your Wedding
When looking for a private villa for your wedding, it's important to choose a venue that is suitable for hosting a wedding. Consider the size of your guest list and the type of wedding you want to have. Does the villa need to have a sunset beach for a romantic ceremony, or a spacious garden for a lively reception? If you're planning a small, intimate wedding, you may want to look for a villa with a smaller outdoor space for the ceremony and reception. Alternatively, if you're planning a larger wedding with a seated dinner, a big dancefloor, and lawn games, you'll need to find a villa with a suitable space to accommodate these activities. We can help you assess your needs and recommend private villas in Koh Samui that are most suitable for your wedding.
Check the Availability of the Villa
Once you have a list of potential private villas for your wedding, you'll need to check their availability. Popular villas suitable for weddings in Koh Samui can book up quickly, so it's important to start your search as early as possible. Make sure the villa you choose is available on your preferred date, and don't forget to check the availability of any other vendors you plan to use. Our wedding planner can assist with checking availability and coordinating with the villa and other vendors to ensure everything is booked for your wedding day.
Get Recommendations from Us Before Booking
Before you make your final decision, be sure to get recommendations from us. This is especially important if you have found a villa online, as you'll want to ensure that the villa is reputable and can accommodate your specific wedding needs. As a professional wedding planning business with experience in planning over 400 private villa weddings in Koh Samui, we can provide valuable insights and help you make an informed decision. We have worked with a variety of private villas in Koh Samui and can recommend ones that have a track record of successful weddings. If the villa is new to us, we can go inspect it for you to make sure the villa is suitable for weddings. Our wedding planning team can also provide you with a list of preferred vendors to use for your wedding, including caterers, florists, and photographers.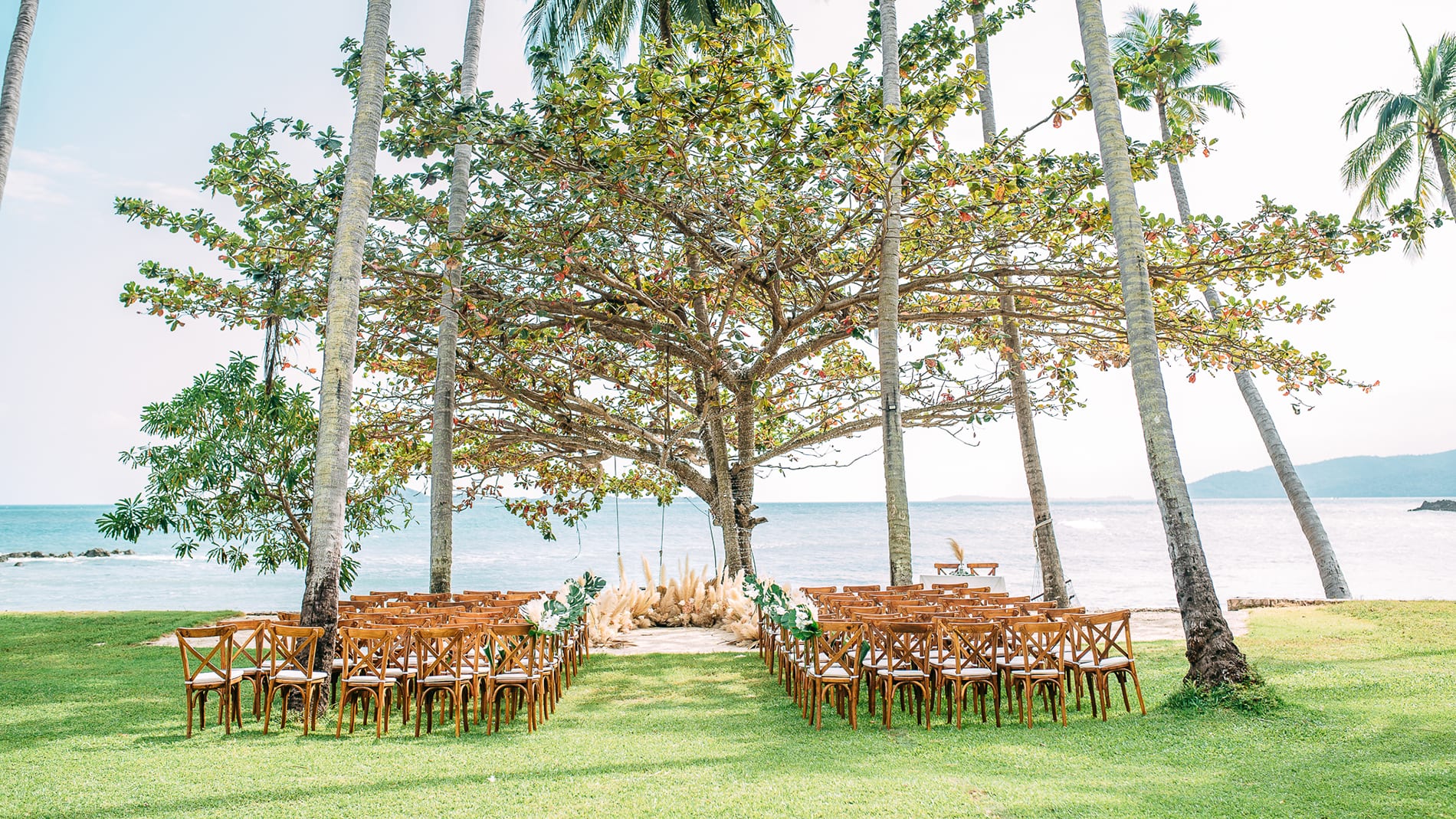 Accommodation and Transportation
After securing a private villa for your upcoming wedding in Koh Samui! While the venue is an important piece of the puzzle, there are other logistical details to consider to ensure that your guests have a comfortable and enjoyable stay. This includes arranging accommodations for guests who cannot be accommodated at the villa and coordinating transportation to and from the villa. Our wedding planning service can help you navigate these details and make sure that everything runs smoothly on your wedding holiday.
Accommodation options for you and your guests
Once you've secured a private villa for your wedding, the next step is to consider accommodation options for you and your guests. While the villa may be able to accommodate a portion of your guest list, some guests will likely need to find alternative options. As a wedding planning service, we can recommend a variety of options to fit different budgets and preferences, including private villas, budget-friendly guesthouses, and luxurious beachfront resorts. We can recommend the best options for your needs and budget and coordinate accommodations for your guests to ensure that everyone has a comfortable and enjoyable stay in Koh Samui.
Transportation to and from the Villa
Getting to and from your private villa wedding in Koh Samui can be a challenge, especially if you have guests arriving from different locations. Our team can help coordinate transportation for your wedding party and guests, including airport transfers and shuttle services to and from the villa. We work with trusted local transportation providers to ensure that your guests arrive on time and are transported safely and comfortably. We also arrange for transportation back to their accommodations after the wedding so that your guests can relax and enjoy the wedding without worrying about logistics.
Recommended activities and attractions in Koh Samui
During your stay in Koh Samui, there are a variety of activities and attractions to enjoy, such as beach hopping, snorkeling, and island tours. We can provide recommendations for local experiences and even help arrange excursions and booking activities. Whether you want to relax on the beach or explore the island's cultural attractions, we can help you create a customized itinerary that suits your interests and budget.
In addition to activities and attractions, Koh Samui also offers a variety of dining options. One great way to bring your wedding guests together is to host a welcome dinner or cocktail party at a local restaurant. This not only gives everyone a chance to relax and get to know each other but also provides a taste of the local cuisine. We can recommend and make reservations at some of the best restaurants in Koh Samui for your welcome event.
With our local knowledge and expertise, you can experience the best of Koh Samui and make memories that will last a lifetime.
If you're interested in learning more about things to do in Koh Samui, be sure to check out the blog post we made earlier.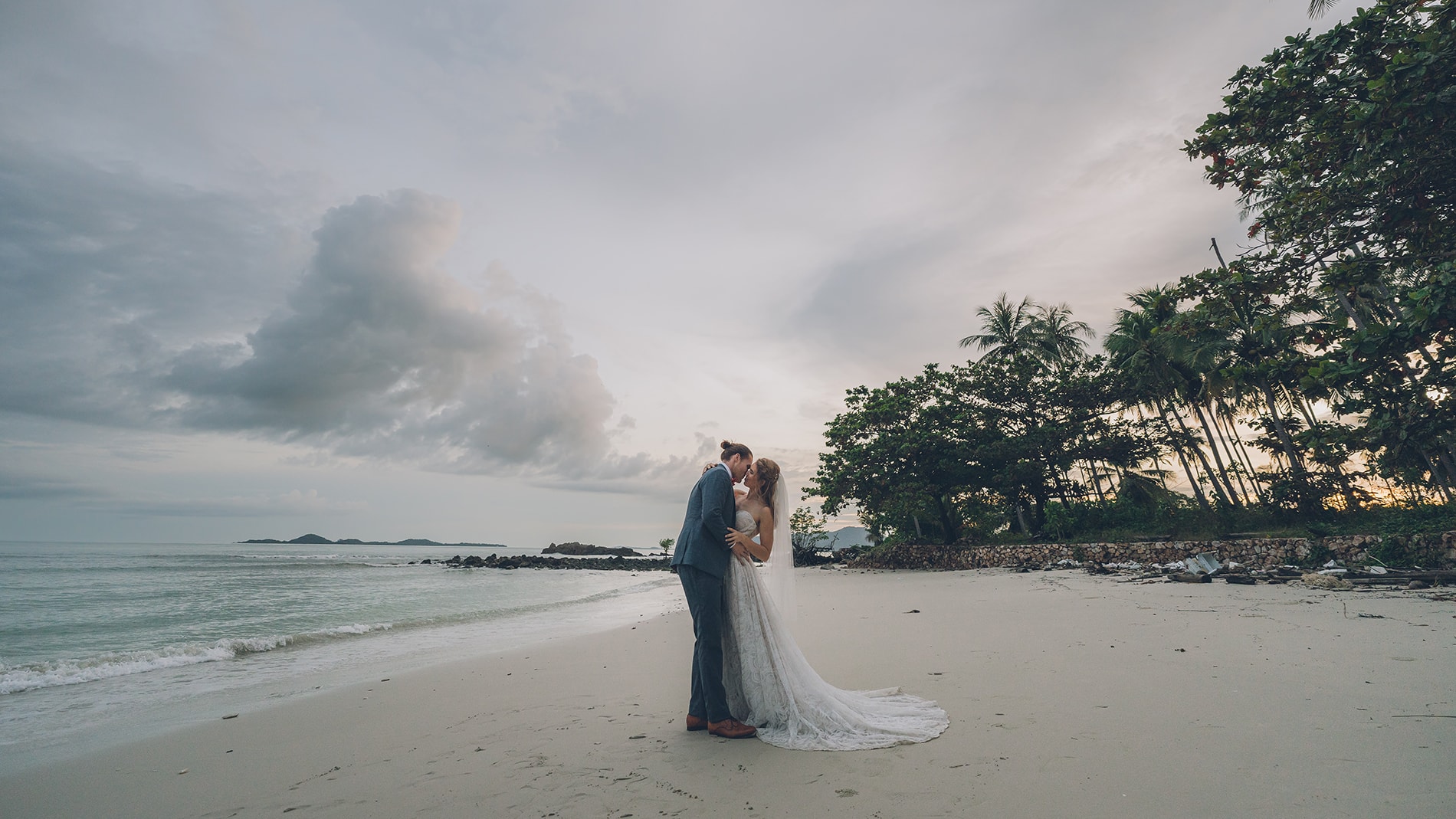 Final Thoughts
Congratulations on taking the first step towards planning your dream wedding in Koh Samui, Thailand. A private villa wedding on this tropical island guarantees an unforgettable experience for you and your guests.
We understand that organizing a wedding in Thailand from overseas can be a daunting task, but we are here to help you every step of the way. With our local knowledge and expertise, we can make your wedding vision a reality, from finding the perfect private villa to coordinating all the wedding day details.
By choosing a private villa wedding, you have the opportunity to customize every aspect of your wedding day and create a one-of-a-kind experience that reflects your personality and preferences. Your guests will enjoy exclusive accommodations and breathtaking scenery while celebrating your special day with you.
As you begin your wedding planning journey, we encourage you to consider the benefits of having a private villa wedding in Koh Samui. With our help, you can relax and enjoy a stress-free wedding experience that exceeds your expectations.
Contact us today to learn more about our services and how we can help you plan the wedding of your dreams in Koh Samui, Thailand. Thank you for considering us, and we look forward to hearing from you soon!