Frequently Asked Questions
Budget, Planning and Practical Details
Where do we begin?
Start by sharing your ideas about your wedding with us. Then we work with you to find your ideal venue and bring together all the key elements to create your perfect day.
Do you help find a venue in Koh Samui?
Yes! Part of our service is venue research and selection. We're more than happy to show you around before the final decisions are made, including accommodations near the venue and places on non-wedding days for you and your guests. We can also host food and cocktail tastings, as well as arranging hair and make-up trials.
Do you handle rentals? Will you coordinate deliveries, arrivals and set up times with the photographer, florists, musicians and caterers?
Yes, we take care of all of these to ensure all set-up & deliveries are all done and on time.
Can you create a timeline for our wedding with details, so we can see how the day will go and everyone who's involved knows exactly what they need to do?
Yes, definitely. Part of our standard service is to ensure that we put together a specific wedding timeline for the day. This includes details for every part of the day, as well as tasks for each party involved. We work closely with you on crafting this timeline for a perfect day.
What time will you arrive and depart on the day of our wedding?
We arrive in the morning and leave when the wedding is completed – when guests leave their villas, we clean up, pack up & leave. We'll always be there onsite to assist you on the wedding day & the night of the wedding to ensure the whole event goes smoothly.
Will you stay on site after our wedding to make sure everything has been taken down and all vendors have left the location?
Yes of course. I'm the last one to leave the venue.
How will you help me stay within my budget?
We will always keep you updated on costs based on your current number of guests, what you have decided to go for in terms of styling, food, beverages, entertainment and other vendors, so you are on track with your budget. In addition to this, we will always help you find creative ways to save money wherever possible.
How much of a deposit is required to book your services? When is the final payment due?
We require an initial deposit of 20,000 THB and the total balance of all wedding expenses to be settled 15 days before wedding day.
Do any of your packages include planning the rehearsal dinner and/or post-wedding brunch? If not, would you provide that service and what would be the extra cost to include it in our contract?
Yes, our service includes non-wedding day arrangements & coordination, whether it's sourcing or coordinating with venues or arrangin transportation for guests, or even any other special touches you would like to add on non-wedding days, we can assist.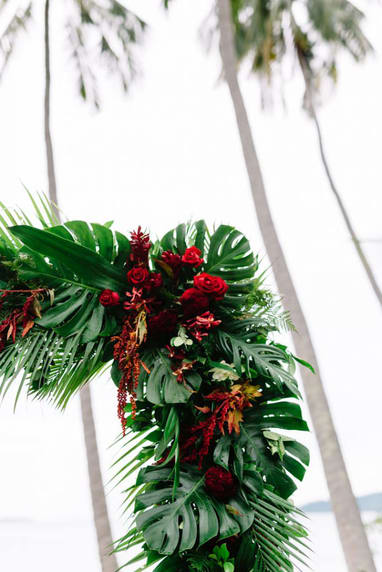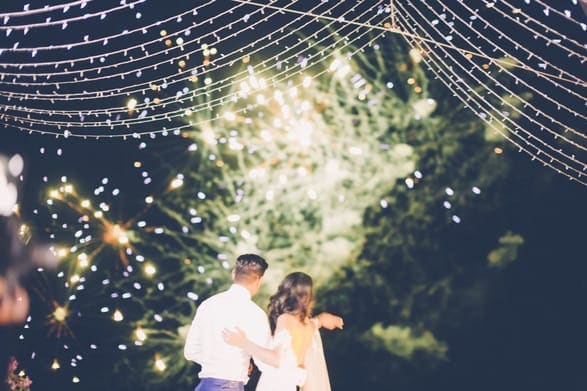 About Us and Our Team
How many weddings have you planned?
Over 300 successful personalized weddings to date.
How long have you been in business?
Almost 8 years. Aey, the owner and founder has 16 years event management experience in both Bangkok and Koh Samui.
Are there specific vendors you like to work with? What's your process for selecting and hiring them? How would we be involved in the selection process?
Yes, we do work with specific vendors that we have long-term relationships with. These vendors have been through a thorough screening process until we settled on the best ones. We look for high quality service and vendors that we know will deliver exactly what we ask for on the day. Some of these vendors include florists and audio visual specialists for example.
For photographers, videographers, hair & make up teams that we've worked with are simply amazing. Of course, we're not limited to our list, we're happy to work with your choices too if you prefer.